Niger
Gulu woke me up this morning biting my ear about 7 AM. We breakfasted on coffee, cheese, French Baguettes and Uschi's homemade delicious runny cherry jelly. The children came back early and tried to get Uschi to give them on of her dogs since "European" dogs must be better. We hit the "road" about 8:30 with 6-8 km to go to the market in Well-Soffon-Gari. It isn't so good, we will go to another 30-40 km in Meriza. The market at Wella wasn't until the evening, so we go on to Meriza. No dogs in Wella. On the way from Wella, we saw a light sand and white young male out in the country. In Sanam, we saw a brindle female, very beautiful, and a red with a dark overlay male. In Asimahan, we saw four Azawakhs, one very pregnant sand female, one sand/white particolor and two red males.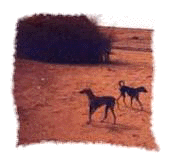 Before reaching Meriza, we saw a male sand/white particolor pup about 6 months old. Then in Meriza, we saw the market. It was SUPER. The police examined our passports and asked a lot of questions about where we were going and why. After some time, we were dismissed. By that time, we were completely engulfed in black people. Wodaabe, Bororo, Tuareg, Sonrai (Djerma), Bella, and Hausa. The Wodaabe's were enamored with Leon and loved his hair. Everyone wanted to touch him. We went through the market followed by a crowd. The whole market stopped to watch while we shopped. I bought a small stool, two daggers, two small Tuareg leather bags, four wooden spoons, two kohl holders, a small mirrored necklace and two ropes of tassels, also a strand of red leather cri-cri. The bags, daggers and tassels were of excellent quality and cost less than $20.

At the market, there were lots of Azawakhs. Reinhard counted about 20. The most exciting was a black male. There were several sands, particolors and the red with dark overlay which seems to quite common here. The end of our visit came abruptly when I stopped to take a picture of a beautiful sand female and was accidentally too close to the police table. They thought I was taking a picture of them, which is strictly forbidden. Reinhard was talking to them trying to calm them down and we were afraid they would take my camera and film away. After some time, he came back and we set off again. I felt SO stupid. I know it was a problem to photograph around the police but I was only looking at the dog. I resolved to behave myself in the future and promised Uschi and Reinhard that I would be "good".

The quality of the dogs we saw in Meriza was very good. Especially, the black one. There was, also, a lovely sand female. Two were heavy built and coarse but they were two of the approximately 20 that we saw there. One of the heavy boned males was very old and very friendly.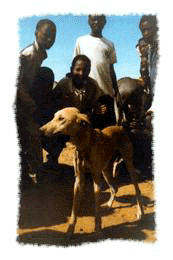 Also, a female with some women in the market made "cuppy" ears and smiled at our approach. The cattle here are very long horned and beautiful. Mostly a lovely sable brown color. We were also approached by a man trying to sell a baby gazelle. Poor thing. I felt so sorry it would be someone's dinner that night. The women at the market were so beautiful, especially the Wodaabe and Tuareg. And they were very warm and friendly.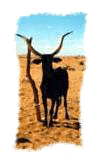 At a village outside Meriza, we saw a very pretty sand puppy about 3-4 months old. We stopped for the night a few miles outside Meriza. Thinking we were alone, we were watched by two goat herders from the top of a hill. They must have thought it funny to watch Reinhard help us wash our hair. Reinhard shaved off one weeks growth of beard. It took him two razors and several hours.