On to Abala, Niger
On the way, we stopped in Abarey and saw many excellent Azawakhs.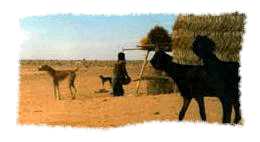 Of note a blue brindle female puppy and an adult grizzle male. There were also reds and a red female littermate of the blue brindle. There was also a very pregnant cream female with erect ears. Interesting to note that all the dogs in the village, including her, were phenotypically excellent Azawakh.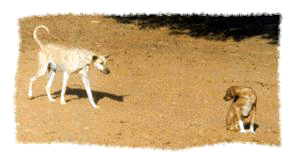 At Abala, we didn't see any dogs and only passed through. The next village, Fadama, we saw a red male running, but he was out of sight before I could get my camera up. We planned to go to Bani Bangou, but the way was very rough and we had to go another 80 KM to get there, so we backtracked to Abala and stopped for bread. Uschi got two Tuareg tea ovens there, really beautiful and cheap. Still no dogs, but on the way back through Fadama, we saw a 3-4 month old red pup. We decided to go back to Filingue and then to Ouallam to the west of Filingue about 120 KM.

In Filingue tomorrow, we need more water for Uschi had to wash clothes today since Leon was puking a lot. Once, all over Uschi and himself, and then, in the back with me. Luckily, he only soaked the dog leashes and the side of the refrigerator. After parking for the night outside Filingue, we were visited by a group of people from different tribes. The children had brought a 4-6 week old red male pup with them and after drinking tea with Reinhard, the head man gave him to me. Oh, I wanted him so badly. The poor baby was so dehydrated and the children were carrying him around by the neck like a goose. I gave him a little bit of water which he drank, much to the amusement of the natives.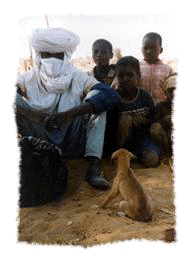 Later, I walked back to their camp to see if there were any adult dogs. There weren't any there and I gave the pup back to a woman in the camp. The camp was just like pictures in books of Targi encampments, low tents with belongings on top. Women underneath the tents mostly, men together conversing, children watching. A small child was laying along in the dirt, maybe sick or dying about 10-15 feet from the rest. I left and walked back to the truck feeling so sorry for the puppy. He was red with four white socks and tip on the tail, and so small and fragile. From what I could gather, they had gotten him at a market and that is why there were no adults in the camp. A group of young men followed along and resat themselves with the group that had stayed. One small boy was very pretty, like a Wodaabe. All the others were mixed, some were Targi and a Hausa man. Later, they left after the Hausa man shared tea with Reinhard. Then, a woman came from the camp (the one I had given the puppy back to) and I invited her into camp. She sat for sometime. I gave her some Jolly Ranchers. Then after some time, she asked for some tea and sugar. Apparently, I made an error. When I invited her into our camp, I should have offered to make tea. Uschi didn't know I had motioned her to approach. More ethnic mistakes. The young Targi man was also here, her son, I think. As I write, he is sitting about one foot from me, watching through his turban. It's really weird, the way that they watch us. You just have to go on about your business. Uschi says the Targi want things, but don't want to work. But they offered me the puppy as a gift. It seems wrong and I don't really understand. Guess I'm too kind hearted. I want to help all the children who have runny eyes and sores and give to all. Uschi says, they did it before, but it doesn't help for the people don't understand the western medicines and that they take and take but don't understand working for it. But, anyway, I made a terrible faux pas with the woman.

The young Targi man is wearing a beautiful silver ring. Uschi says that if I want it, maybe we could trade it for some clothing. Maybe, if he comes back, we can try it.
Now, we have a crowd of children, standing and watching. The young Targi man left while we walked the dogs and these came. There are 9 or 10 of them from approximately 6-13 years old. Reinhard is working on the truck and that is a major source of interest. There are three young girls and the rest are boys. Leon's toys are a main source of envy. I'm sure they never saw anything so fine.