Azawakh Breed Information and FCI Breed Standard

Al Hara's Cida

What kind of dog is that?
Do they all look like that?
Where do they come from?
Can they be shown?

What are their temperaments like?

How do they do with children?

What about other pets?

Can they race or lure course?

Is there a breed club for Azawakhs in the U.S.?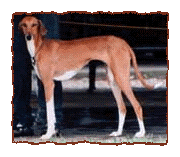 Kel Simoon Essari
(Amastan Kel Air X Kel Simoon Cinnamon)



What kind of dog is that?
The elegant, graceful animal you are inquiring about is an Azawakh (pronounced Oz-a-wok). It is a unique type of sighthound that is also an impressive guard dog
Back to top


Do they all look like that?
Azawakhs are elegant, tall dogs of proud bearing. Lean and muscular of frame, their appearance should indicate swiftness when running. He should be longer of leg than of body, which may seem extreme when compared with other sighthounds His neck is long and graceful, his head held high when alert. His tail is proudly carried above the line of the back. The breed has pendant ears which are raised to the side of the head in response to sounds. Their movement is spectacular to watch. At the trot, they are light and graceful; at the gallop, they cover ground in great strides Males range from 25-29 inches in height, females, 23 1/2 - 27 1/2 inches. The short, smooth coat comes in a variety of colors to include, clear sand to dark red, white, black, blue, gray, brindle, grizzle, parti-color and all shades of brown including chocolate. The overall impression is that of speed, power and majesty.
Back to top



Where do they come from?
Because their discovery by the "dog fancy" has been so recent, it is easy to trace their migration to America. An African sighthound, the breed originated in Mali, Niger and Burkina Faso. Raised in the Sahel region of the Sahara desert, they are named for the Azawakh valley. Azawakh means "land of the north". They are the guardians, hunters and companions of the Tuareg and other ethnic tribes of the southern Sahel. The breed was first imported to Yugoslavia in the early 1970's by Dr Picar, a Yugoslavian diplomat stationed in Burkina Faso. The dogs could not be bought, however, Dr Picar received his male as a gift from the nomads. He later bartered his services as a hunter, by killing a bull elephant who had been terrorizing the tribe, in exchange for a female Azawakh. The French military and civil servants also played a significant role in exporting the Azawakhs to Europe.

The Azawakh made it's debut in America in the mid 1980's. The first litter was whelped on October 31, 1987. These first American Azawakhs were all red or fawn with white markings. The first brindles came to America in 1989, with the first brindle litter whelped November 27, 1990. In the mid 90's, a parti-color male was imported from Burkina Faso and in 1997, a mixed parti-color and sand litter which was bred in Mali, was whelped in Alaska. It is hoped that an even larger selection of colors will find their way to the U.S. from Africa in the near future.
Back to top


Can they be shown?
The Azawakh has a show history that begins very soon after its original importation. They were first shown in the early 1970's under FCI rules as a variety of Sloughis. On January 1, 1981, they were accepted as a bonafide breed and were referred to as "Sloughi-Azawakhs". In 1986, the Azawakh was finally recognized for the unique animal it is, when FCI dropped the word "Sloughi" from the name. In America, the Azawakh is recognized by the United Kennel Club (UKC), the International All Breed Kennel Club of America (IABKCA), the American Rare Breed Association and many other smaller registries. The American Azawakh Association is the parent club for the breed in the US. Although the AAA doesn't recognize the FCI Standard for the breed because of its color limitations, the dogs can be shown in any FCI recognized country under FCI rules which allow only cream to red and brindle, with all other colors disqualified. Their history as show dogs is in its infancy, but their natural regal presence demands recognition.
Back to top


What are their temperaments like?
When discussing the temperament of an Azawakh, consideration should be given to individual personalities and contributing backgrounds, both genetic and environmental. However, there are several general characteristics common to the breed. Described in Dog World as a "warrior class dog" and by a new puppy owner as a "Basenji on stilts", they have the intelligence and heart to protect. When approached on his own turf, he is very vocally intimidating. In situations where their duty as guardian isn't necessary, their reactions may range from friendly, to mildly curious to arrogantly indifferent Although generally not outgoing, several in the US have found the opportunity to make social contributions as therapy dogs in nursing homes and rehabilitation centers They seem to possess an uncanny combination of total loyalty and independance. Each new situation presents the potential for the struggle between the dog's natural desire to please and his prideful desire to do things his own way. A firm, fair hand is called for. Properly socialized and trained, the Azawakh will live harmoniously within the family and community
Back to top


How do they do with children?
No one can predict the individual personalities of all dogs in any breed There are some situations which should be avoided with guard dogs of any breed. Children playing together sometimes squabble. It is natural for a guard dog to protect "his" children from their playmates. Azawakhs, being spirited family participants, freely volunteer their assistance when another family member is being disciplined. This unexpected "assistance" can be frightening for everyone. There are individual dogs of all breeds which do not like children. The Azawakh, as a breed, with care given to the situations mentioned, should fit well into any family structure.
Back to top


What about other pets?
Much discussion as been given to the guardiness of the Azawakh, but here we must remember that this is a sighthound. As a rule, they seem to accept other dogs, though sometimes grudgingly, as protected members of their own pack. Many less "gamey" dogs do well with an indoor cat, however, bets should not be placed on the chances of a cat in the yard or the neighbor's Pomeranian. Because comparatively few generations have been removed from the need to hunt daily for personal and family survival, the hunting instinct is very strong in this breed
Another point to mention is that the Azawakh is a very dominant breed. Within a household pack, they will almost always aspire to the alpha dog position. If there is an existing dominant dog in the pack, this can sometimes cause conflict within the pack.
Back to top


Can they race or lure course?
The present status of the Azawakh in America is a source of frustration for owners interested in lure coursing. The breed is extensively coursed and raced in other countries, however, in the U.S they are not officially recognized by the American Sighthound Field Association (ASFA). Since 1996, the breed has been able to lure course under the auspices of the ASFA in the Miscellaneous Stake. However, the Miscellaneous Stake is unable to compete for Best of Breed and Best in Field. Points towards a Field Championship are not tabulated by ASFA and Field Championships are not awarded to breeds running in the Miscellaneous Stake. It is the hope that by the year 2000, the breed will be fully recognized by ASFA and will be allowed to compete in regular stakes for it's breed.The Azawakh is recognized by the National Open Field Coursing Association (NOFCA) for open field coursing in the midwest portion of the US as a rare breed.

There have also been supportive offers made by some National Oval Track Racing Association (NOTRA) members.
Back to top


Is there a breed club for Azawakhs in the U.S.?
The American Azawakh Association, Inc. (AAA) is the parent club for the Azawakh. The AAA was founded on February 7, 1988 with the goals of promoting the pure Azawakh and guaranteeing the breed a permanent future in the U.S. Further information may be obtained by writing to the American Azawakh Association, 305 Wild Horse Creek Rd. Wildwood, MO 63005. The club publishes a quarterly newsletter, The Azawakh Aegis, which is available by subscription to interested persons.
Back to top